Performance Evaluation - Part 2
03. August 2020
Preparation of a Performance Evaluation for IVDs
Performance evaluations in accordance with the IVDR are an important tool for demonstrating the relevant general safety and performance requirements laid down in Annex I, in particular with regard to the performance characteristics for IVDs set out in Chapter I and Section 9 of Annex I. In addition, possible interference and cross-reactions must be assessed. Finally, the acceptability of the risk-benefit balance shall be assessed on the basis of the available data.
With these requirements, the performance evaluation of IVDs is increasingly evolving into something very similar to the clinical evaluation of medical devices. In the future, many IVD manufacturers will face the situation that their previous performance evaluations are not sufficient. But not only that. The extent to which these evaluations are prepared in accordance with the IVDR is increasing massively.
In view of this situation, it is immediately clear that all IVD manufacturers will have to deal with performance evaluations for their products. We clearly recommend prioritizing the products.
What is our Cash Cow? What data do we have for this product? What data do we have to generate for it?
IVD manufacturers face a major challenge in implementing the extensive changes in the IVDR. Most will have noticed how difficult the transition from MDD to MDR is for medical device manufacturers. But who is actually talking about the IVD industry? The changes coming there are much more serious!
IVDR performance evaluation: Preparation
To prepare for the IVDR, you should have a clear idea of your current situation. You should know which requirements you already meet and where adjustments are necessary. To do this, perform gap analyses to identify your gaps.
Gap Analysis: performance evaluation
Gap analysis: technical documentation
Gap Analysis: QMS
Further analyses, if necessary
As already mentioned, you should prioritize your products. An important point of reference is the profits you make per product. The products with the highest profits should be prioritized most importantly. Make sure that these so-called cash cows can be transferred to the IVDR without incident. The less profit a product generates, the lower the priority. Many managers would like to transfer all products - but check critically if this is realistic. In most cases, in our opinion, it is not. The transfer to the IVDR is even a good time to thin out the portfolio.
After prioritization and gap analysis, you will know your most important products and the gaps to the IVDR. Now consider how you can generate any missing performance data for these products so that the IVDR performance evaluation does not become a show stopper. There is a strong link between post-market surveillance and post-market performance follow-up (PMPF) and performance evaluation. Use PMPF activities to generate missing performance data, which in turn can be used as a basis for the initial conformity assessment procedure. In this way, you can ensure the transition of your products to IVDR.
Basics of IVDR Performance evaluations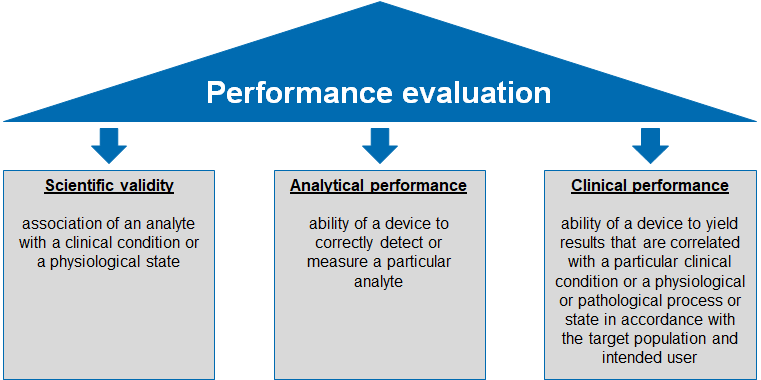 As is already known from the clinical evaluation of medical devices, important data can be obtained from scientific literature. The procedure for objective identification of this literature can be found in MEDDEV 2.7-1 Revision 4. Although this is not applicable to IVDs, an objective literature search is necessary for the performance evaluation according to IVDR. And why reinvent the wheel?
What does thinqbetter suggest?
Think about the existing and IVDR usable data of your products in time. Check whether you have sufficient data available and, if necessary, create missing data. Start a pilot project to create a performance evaluation according to IVDR to get an impression of the expected scope.
If you need support, our experts are at your disposal! We offer comprehensive performance evaluation services to support you on your way to IVDR.